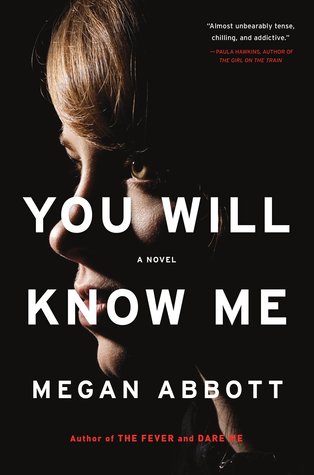 There is nothing new under the sun in Megan Abbott's You Will Know Me. A psychological drama with echoes of Gillian Flynn, lies, misdirection, an evolving web of artifice, and a sickening spiral into realization that we can never really know another person, even those we love the most.
You will know me. Is that a threat? Or a promise with no hope of fulfillment?
You Will Know Me tells the story of Olympic gymnastic hopeful, Devon Knox, through the eyes of her mother Katie, as the parents and their underestimated, often forgotten son Drew structure their lives around Devon's Olympic dreams and extraordinary talent. On one level, it's a family drama, ("All happy families are alike; each unhappy family is unhappy in its own way") exploring the toll that genius and talent exerts on those in its orbit.
And then there's a murder. Of course there's a murder.
And so the rhythm of the Knox's world is shattered, and in the fallout the facade of their good life cracks and flakes away, like chips of paint. Likewise, the image of the adored coaches, the ambitious mothers, Devon's impervious, single-minded drive, shimmer and distort, mirages exposed to cold, clear air.
The shocks aren't that shocking. The twists aren't very twisty. Plot points are easily telegraphed to any reader paying attention. Morphological deformities reflect in the psyche. What happens to a dream deferred? We have kids, of course, and our lives become one long act of vicariousness.
And what if we never had any dreams at all? Worse than desires denied or faded is the thought that maybe you never had any desires at all; the adults in the novel arrange their orbits around their children and are blindsided with impossible decisions when those children are threatened.
You Will Know Me  is a damn good read with engaging characters and a propulsive plot. Even if you guess the destination, it's still a fun ride.
*Qualifying Rounds:
For some reason I imagined each adult female character in this book as one of the clones in Orphan Black.
Katie = Sarah
Molly = Alison
Gwen = Rachel
Haley = Helena
How convenient that this book arrived in my life to coincide with the Olympics. So that'll be me, watching gymnastics, going "look at that double yurchenko!" like a boss.